For all official information and updates regarding Covid-19 visit the South African Department of Health website at
www.SAcoronavirus.co.za
or their WhatsApp line on 0600-123456. If you want your own WhatsApp Chatbot visit
www.whatskonnekt.com


Welcome to Excellence in Security!

Trojan Security is a truly South African Company and our mission is to render Excellent
Customer Service through advanced yet affordable Security Solutions, competence
and profitable growth.

Our Services Include:

Registered Guards
Alarm Monitoring & 24 hour Armed Response
Alarm Installation
Medical Response - provided by your preferred supplier


Look out for our fresh new look
We're still the same just better!
Seven Reasons why our Clients see us as their # 1 Security Partner.

More than fifty percent of our clients have been with us for longer than 10 years with 500 of these for longer than 15 years.

1. Passionate people committed to service excellence. Customers'

safety comes first, which means you can feel safe and relax while on

holiday, we will look after your safety while you are away or at home.

2. Fast, reliable and predictable Armed Response Service. Daily
monitoring of response logs which ensures that our response time

when you are in trouble and fearful, will be as short as possible.

3. We render excellent Customer Service through advanced, yet
affordable, Security Solutions. Your Security is in good hands.

4. Sixteen years of experience and knowledge enable us to recruit

quality knowledgeable, efficient, and trustworthy frontline staff who

care every minute of the day and night about their clients. Our clients

have direct access to managers.

5. Community involvement and partnerships such as attending
Community Police Forums, ensure that we are informed about crime in

our area. We also build good relationships with the Police which will

ensure a positive attitude and a helping hand towards us, as well as a

quick response from their side when they are needed.

6. South African owner managed business operating in the Randburg

district only. Being area-centred means quick response times and

walking the extra mile to ensure your safety and minimize your
frustrations as much as possible. We are passionate and caring about

the Randburg community.

7. We do what we say! Honesty, integrity and passion are the
cornerstones of our business.

Contact us anytime for a complementary assessment for your security needs at 011 792 0738.
Head Office:
08h00 to 17h00

011 792 0738

Contact our Sales Team for a Personal Appointment

011 792 0738
trojansec@mweb.co.za

Control Room:
Emergency Number: 24 Hours : 011 791 7991
Welcome to Excellence in security!
Trojan Security is a truly South African company and our mission is to render excellent customer service
through advanced yet affordable security solutions, competence and profitable growth.
Our services include:
Alarm Monitoring & 24 hour armed response
Medical response - provided by South Africa's leading emergency medical service company MRI

Our previous logo - now refreshed and even better!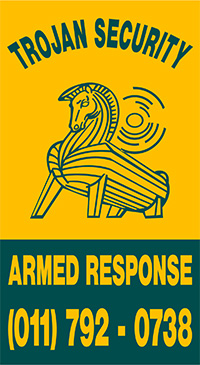 Contact our sales team for a personal appointment

011 792 0738

Head Office: 8am – 5:00pm
011 792 0738
Control Room:
Emergency number: 24 Hours
011 791 7991
Email: trojansec@mweb.co.za